Easy to install with NO Tool
Easy to customize, Perfect for carpet & floor
Please do not forget to install connection pole
After you insert connecting pole into vertical pole, vertical pole can be extended up to 117 inch
Product will be extended ONLY 87 inch WITHOUT installing connecting pole.
Installation Tip
Extending vertical pole toward both ceiling and floor.
Shake vertical pole by hand to ensure the vertical pole set up firmly.
Fasten safety bolt as tight as possible, so that tip of safety bolt go into vertical pole and become embedded. (Heat treatment was applied to tip of safety bolt, so that it's strong enough to penetrate the steel vertical pole)
Pay Close Attention to Similar Products
Prince Hanger
Patented One-Touch System
No wasted space at the top
Double locking system for horizontal bar (Rubber ring & Safety Bolt)
Other seller's Product
No one-touch system (Hard to install and move)
Waste space at the top more than 1ft (Cannot hang your clothes close to ceiling)
Only one locking screw for horizontal bar (Should be loosened easily)
Patented One touch system
One Touch Fastener is our proprietary technology that makes it easy to install sturdy poles.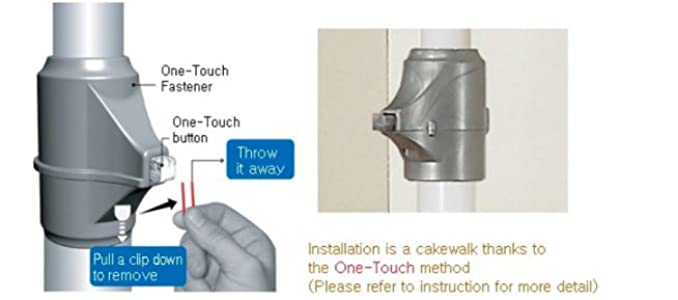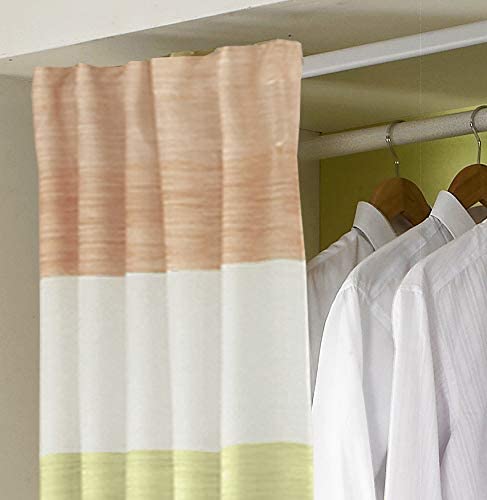 Frequently asked question
Bar type hanger and curtain together- Get the economical combination.
Q) more information about curtains?
A) Curtain is made of 100% of polyester for easy care.
Q) Bars are fixed safely?
A) A semicircle bar bracket can support cross bar safely. Once the safety bolt is tightened after adjusting, it will not slide down. A bar bracket has no distinction between left and right.
Q) Is the pole sturdy?
A) The Spring loading system tightly locks at both ends. The pole has a one-touch adjustable device to assemble parts easy and simple.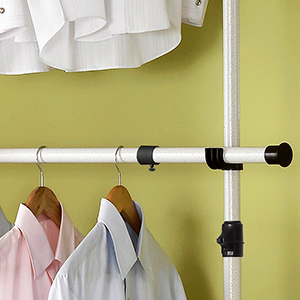 Made with steel pipe, it holds up to a 132LB(60Kg) load without any deformation. After adjusting the length, screw the safety bolt in for maximum safety
The bar bracket holds a cross bar firmly.

You can adjust its height to maximize the storage capacity, and lock it by screwing in the safety bolt.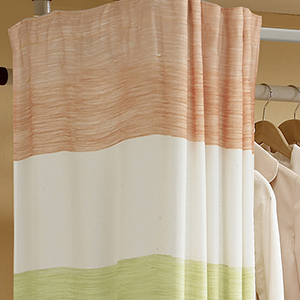 Curtain is made of 100% of polyester for easy care.

Curtains easily slide, and help to neatly keep your clothes.

Upgrade curtain color – Orange & Green Stripe.
Reach stick will be sent with package

Easy to hang your clothes on upper pole without step ladder
Outstanding Quality (Lifetime)
Broken part that has been damaged under normal use will be covered by Princehanger.
Lost part is not covered. / Lost part can be purchased from Princehanger.
Damage due to improper installation, neglect, or misuse is not covered.
Shipping cost for replacement part will be on customer.
Proof of purchase will be required. (Order Number / product name and name of purchaser)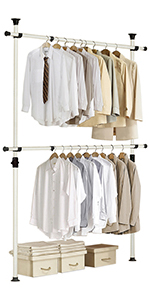 67~117 inch
39.3~67 inch
Ivory (Off white)
One-touch system
Closet, Bedroom, Laundry, Bonus room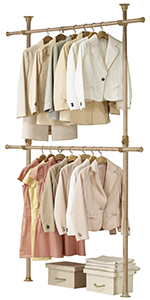 67~117 inch
39.3~67 inch
Wooden
One-touch system
Closet, Bedroom, Laundry, Bonus room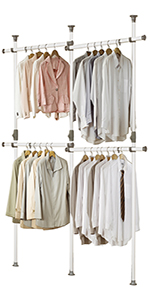 67~117 inch
78~134 inch
White
One-touch system
Closet, Bedroom, Laundry, Bonus room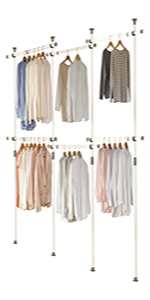 67~117 inch
117~200 inch
White
One-touch system
Closet, Bedroom, Laundry, Bonus room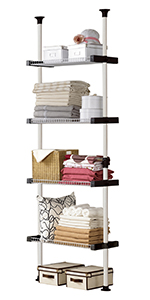 67~117 inch
29.5 inch (Length of Shelf)
Ivory (Off White)
One-touch system
Closet, Bedroom, Laundry, Bonus room, Powder room, Pantry